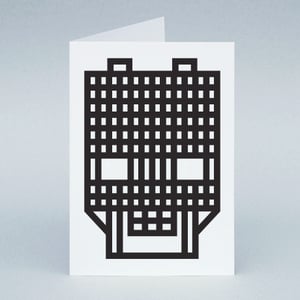 £

2.00
The House of Soviets is a building located in the city of Kaliningrad, an exclave of Russia. The local people often refer to it as the "buried robot". The chief architect was Yulian Shvartsbreim.
This image is one of ten designs from my series titled 'Brutal is Beautiful'. All are illustrations of Brutalism from around the world which was a movement in architecture that flourished from the 1950s to the mid-1970s, descending from the modernist architectural movement of the early 20th century.
The card is digitally printed in the UK onto a high quality white matt 280gsm card from a sustainable source. Dimensions are A6: 10.5cm x 14.8cm. The inside has been left blank for your own message and is supplied with a white gummed envelope and individually packaged in a cellophane wallet.