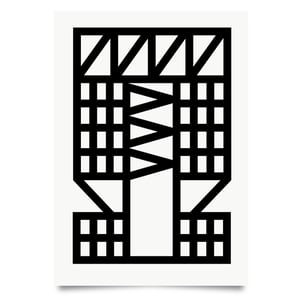 £

50.00
The Pirelli Building is found in Connecticut, USA and was designed in 1969 by Marcel Breuer. This print is one of ten designs from my series titled 'Brutal is Beautiful'. All are illustrations of Brutalism from around the world which was a movement in architecture that flourished from the 1950s to the mid 1970s, descending from the modernist architectural movement of the early 20th century.
A single colour black hand pulled screen print.
Printed onto 300gsm Fabriano 5 Smooth white paper with trimmed edges.
A limited edition of 50, signed and editioned by the artist. Each print is supplied with details about the image.
Supplied unframed.
Sizes: A3 W29.7cm x H42cm.